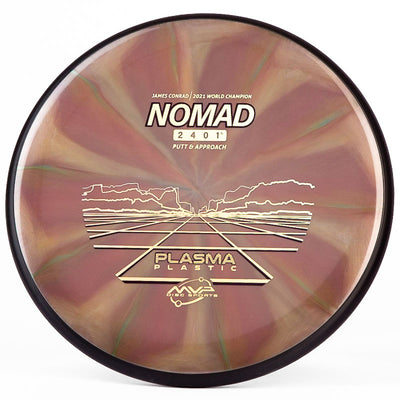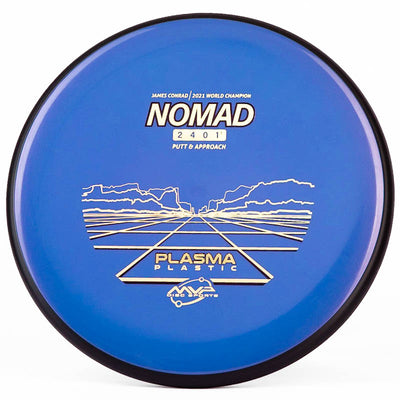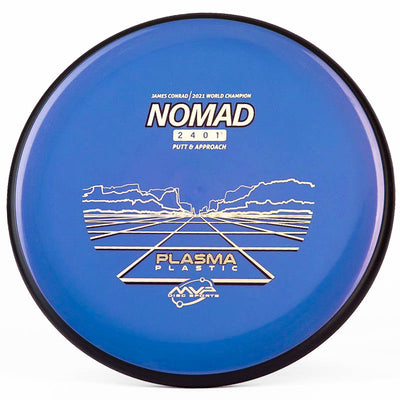 MVP Nomad (Plasma)
Original price
$18.99
-
Original price
$18.99
MVP Nomad Flight Numbers
Speed: 2
Glide: 4
Turn: 0
Fade: 1.5
Skill Level: Beginner
Disc Type: Putt & Approach
Stability: Stable
Plastic: Plasma
Dimensions
Diameter: 21.2 cm
Height: 2.0 cm
Rim Depth: 1.4 cm
Rim Thickness: 1.1 cm
Plasma Nomad Review
The MVP Nomad Plasma is a high-performance, overstable putt and approach disc that is made with durable, stable plastic that can take a beating. It is a beginner friendly disc that can be thrown on any line. This disc is awesome for intermediate and advanced players who can get maximum spin on the disc, and incredible as a forehand approach disc for beginners.

The Plasma Nomad is a unique disc that flies like a less stable Entropy with a straighter finish as it loses speed in the air. It is great for windy putts and has the same dimensions and micro bead as the popular electron version. It has a 2-speed rating, but can fly just as far as most midrange discs with the right technique. This disc has superb glide, a comfortable rim depth for comfort in the hand, and can reach distances close to 300ft with the right arm speed. The flight numbers hold up after heavy use due to the stability of the Plasma plastic

If you're looking for a reliable, glidey putter that can handle some torque and land soft at any angle, the MVP Plasma Nomad is a strong candidate for your bag!