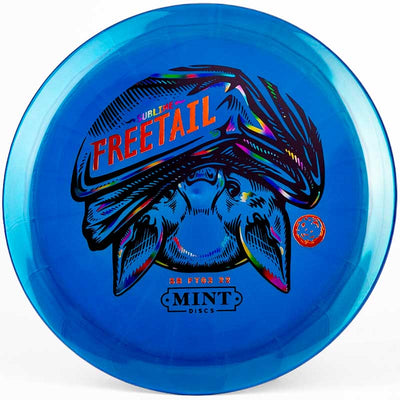 Mint Discs Freetail - Sublime
Original price
$18.99
-
Original price
$18.99
The Mint Discs Freetail in Sublime plastic is a very understable distance driver that is great for beginners and made with premium plastic. Mint's Sublime plastic is a shimmery feeling plastic with excellent grip and holds its stability incredibly well before beating in. 

The Mint Freetail is one of the few 10-speed distance drivers that I recommend to beginners. It is extremely understable and has a ton of glide which makes it really easy to throw, even if you don't have the fastest arm in the world.
If you need a beginner friendly distance driver that you can hyzer flip and throw rollers with; I would highly suggest the Mint Discs Sublime Freetail. 
Mint Discs Freetail Flight Numbers
Speed: 10
Glide: 5
Turn: -4
Fade: 1
Sublime Freetail Dimensions
Diameter: 21.1 cm
Height: 1.7 cm
Rim Depth: 1.2 cm
Rim Thickness: 2.0 cm
Plastic: Sublime
Stability: Understable
Skill Level: Beginner
Disc Type: Distance Driver